CIS Bayad Center Inc. (Bayad), the largest multi-channel payment platform in the Philippines relaunches partnership with PitakaMo IT Solutions and Marketing Corporation (PitakaMo), a digital payment service provider of its franchisor brand AllEn One Grocery and Payment Center (AllEn One).
- Advertisement (300x250) -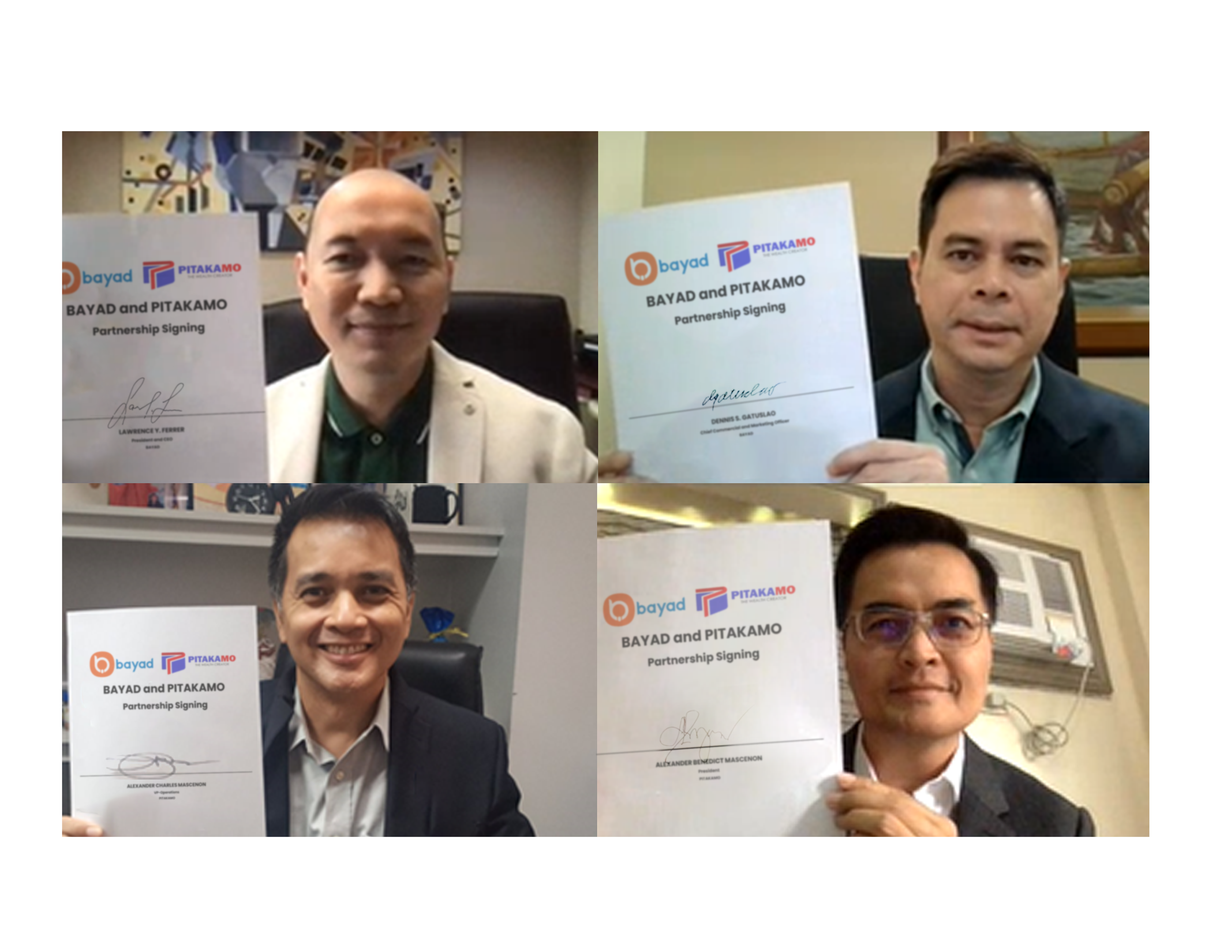 In photo (L-R):   Lawrence Y. Ferrer – Bayad President and CEO, Dennis S. Gatuslao – Bayad Chief Commercial and Marketing Officer, Charles Benedict Mascenon – PitakaMo IT Solutions and Marketing Corporation VP for Operations, and Alexander Benedict Mascenon – PitakaMo IT Solutions and Marketing Corporation President and CEO
Gaining foothold in the retail industry, AllEn One has already established over 47 store branches nationwide in just a span of 2 years. As the company thrives through expansion, it continues to offer value added services including a one stop shop bills payment solution, enabled by Bayad's upgraded system integration with PitakaMo.
Today, AllEn One customers can expect seamless payment transactions with various billers covering services like electric and water utility, cable & internet, government contributions, loan payments, school tuition fees, online shopping, insurance, and many others.
To top it off, most of these billers offer real-time payment posting allowing customers to pay their bills instantaneously, without delay, 24 hours a day, seven days a week.
Bayad President and CEO, Lawrence Y. Ferrer shared, "We and PitakaMo share the same goal of providing convenient financial services. Together, we've enhanced a one stop shop bills payment solution as we respond to the various needs of the customers that we both serve, especially those who are always on the go. Ultimately, we stand with PitakaMo in shaping the future of fintech as we help make payment transactions frictionless, secured, and more accessible to Filipinos."
PitakaMo President and CEO, Allen Benedict Mascenon added "Our partnership with Bayad Center is vital in providing essential services through our AllEn One Grocery, Pharmacy & Payment Centers nationwide."
For financial institutions and businesses like PitakaMo that are interested to be part of Bayad's extensive channel network, you may send an email to [email protected]. Bayad enables partners to attain nationwide presence and provides end-to-end support services for efficient payment and collection processing.
About Bayad
Bayad is the pioneer and trusted brand in the outsourced payment collection service in the Philippines, aggregating a multitude of billers into a robust system that is now being used by more than 100,000 physical touchpoints and leading digital and mobile platforms across the country. Formerly known as Bayad Center, it continues trailblaze the industry as it evolves from an over-the-counter payment center into a full-service fintech service company, offering a whole suite of financial products & services available to both consumers and businesses.
About PitakaMo
PitakaMo IT Solutions and Marketing Corp offers AllEn One Grocery, Pharmacy & Payment Center.  It is an affordable "all-en-one" franchised business that uses technology and innovations to better serve the needs of its community and expand its customer reach.  Perfect for first-time entrepreneurs.  It is a branded convenience store, with pharmaceuticals, money transfer, bills payment, e-loads, insurance, travel & tours, and ATM services.  It comes with an ALLEN ONE Retailer App for the wholesale part of your business.