Klook Philippines, the official travel partner of Jumanji: The Next Level is on the lookout for thrill junkies who are ready to level up their adventures by going to the actual locations the film's characters set foot on! Four lucky winners will be chosen by December 31, 2019! They can also unlock a code to get 10% off on their next adventure!
Take your adventure to the next level with Klook!
- Advertisement (300x250) -
Here's how you can win a trip for 2 to Dubai, Switzerland, Japan, or Phuket!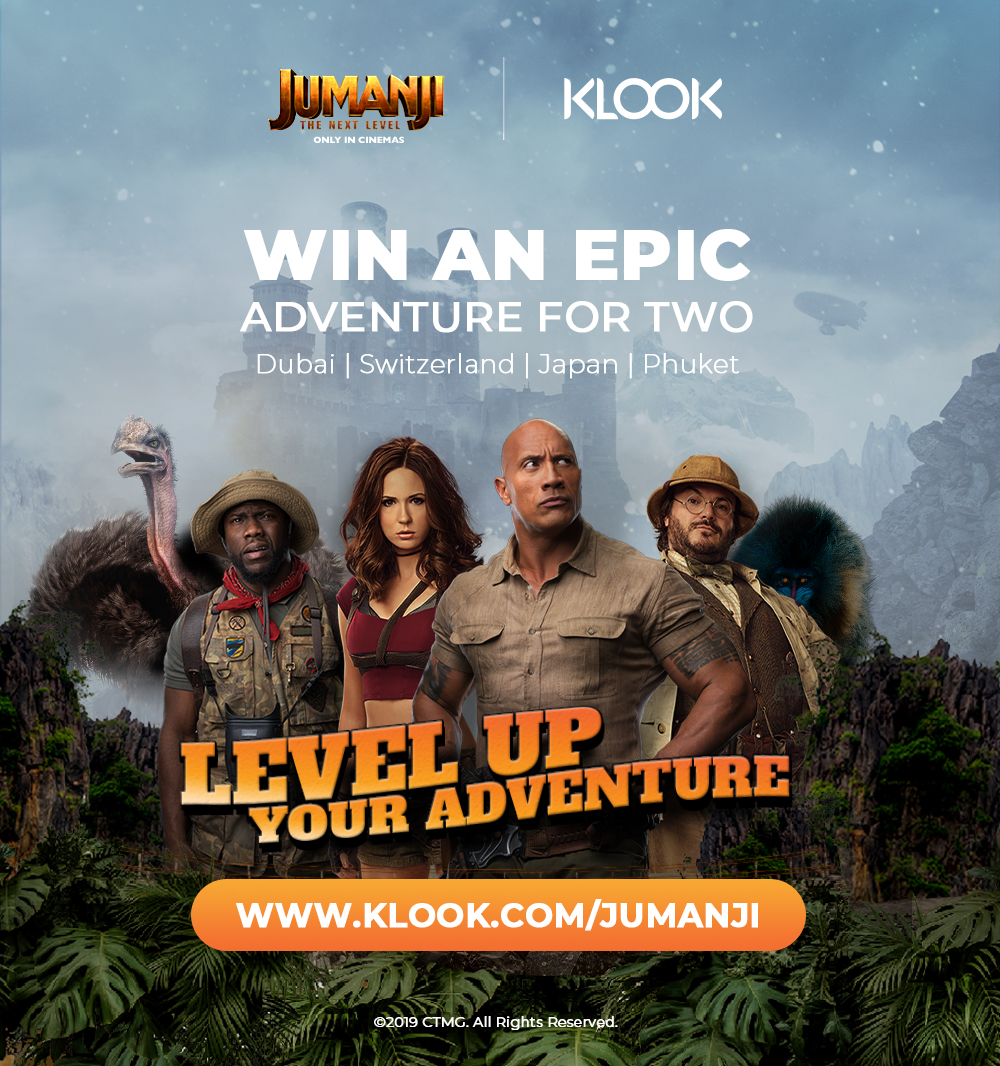 Are you a stickler for details when planning a travel itinerary or the one everyone counts on for the best tips? Here's your chance to go on an action-packed adventure to find out! Klook, a world-leading travel activities booking platform, is the official travel partner for "Jumanji: The Next Level" and is calling for travellers across the globe who are ready to follow the footsteps of the movie's characters and brave parts unknown and unexplored.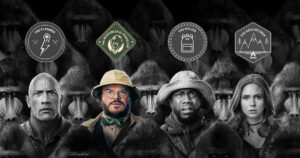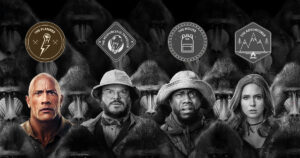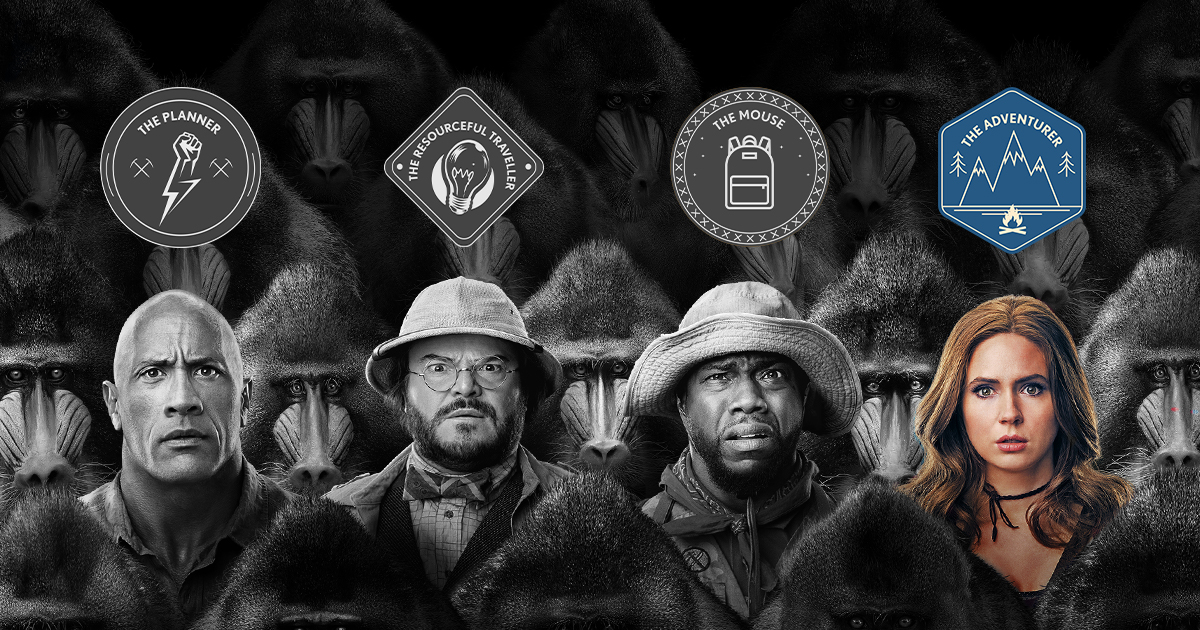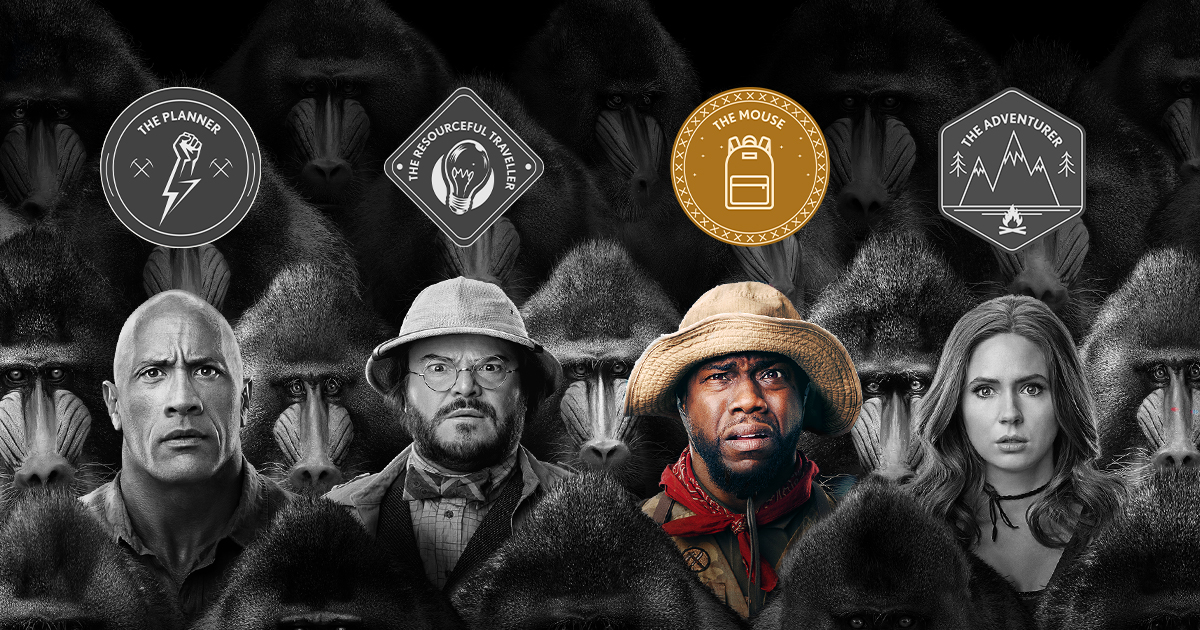 Inspired by the adventures in the film, discover your Jumanji travel avatar and stand a chance to win the travel experience of a lifetime for two in either Switzerland, Dubai, Japan, or Phuket. All you need to do is take a personality quiz at http://www.klook.com/en-PH/jumanjimovie and you can get a chance to be one of the four lucky winners! Plus, unlock a code and take 10% off on your next adventure.
"Jumanji: The Next Level" will be in cinemas starting December 4, 2019. You can join the Klook contest until December 31, 2019 only. Terms and conditions apply. Winners will be contacted via email.
Take Klook's personality test and discover your Jumanji Travel Avatar!
Find out if you're either Dr. Smoulder Bravestone, Professor Sheldon Oberon, Ruby Roundhouse, or Franklin Finbar.
Dr. Smoulder Bravestone
Type: The Planner
Destination: Dubai
Be the leader of your next adventure and travel with confidence! Dr. Smolder Bravestone is definitely not short on tips & tricks for acing every situation! Planners are meticulous travellers with a penchant for detailed itineraries and packed schedules. Think checklists, planners and schedules to maximise your holiday and enjoy maximum savings at the same time!
Professor Sheldon "Shelly" Oberon
Type: The Resourceful Traveller
Destination: Switzerland
You understand everything about your next adventure, from the best hiking trails to the must-see museums in town! As the most intelligent and resourceful character in Jumanji, your friend can count on you for the best tips on things to do, eat, see and experience when travelling! Make sure you have your camera in hand as you embark on your next big adventure!
Ruby Roundhouse
Type: The Adventurer
Destination: Japan
Not one to shy away from new experiences and challenges, Ruby Roundhouse is the epitome of a true adventure-seeker. Every holiday is a "seize the day" moment with new discoveries to be made. Adventurers often keep a bucket list of travel destinations and are constantly itching for their next adventure. For these travellers, the world's their oyster!
Franklin "Mouse" Finbar
Type: The Mouse
Destination: Phuket
When you've been rescued from the clutches of an evil warlord, you can be sure you're not going to let it happen a second time! Finbar is all about covering his bases and being prepared for all kinds of situations. You'll expect someone like Finbar to be reading up on travel safety and making sure they pack everything they need before going on holiday!