Head & Shoulders, world's #1 shampoo brand, gathers #HeadsTogetherForTheBetter, leads beach cleanup activity in Subic, Zambales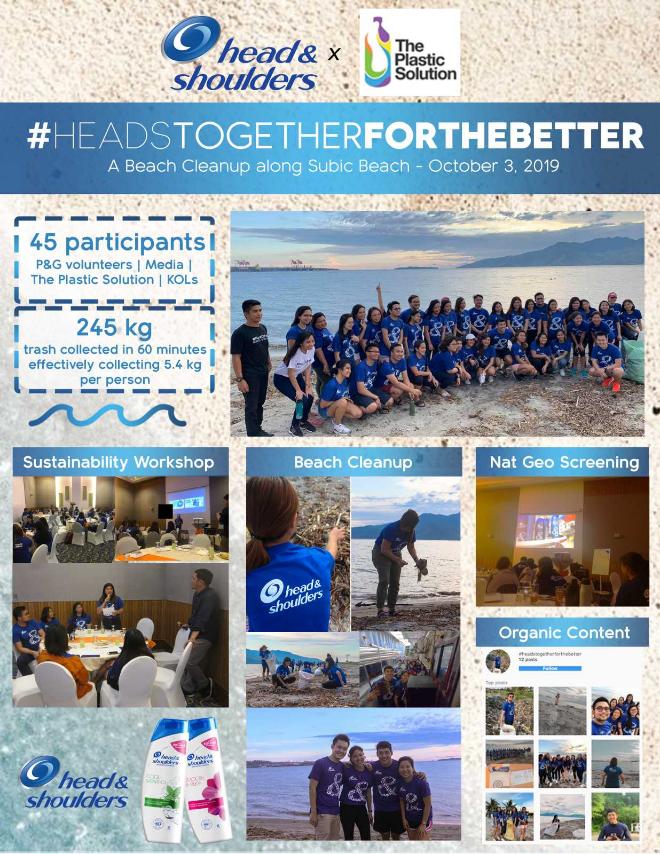 - Advertisement (300x250) -
October 3rd marked the day when the world's #1 shampoo brand, Head & Shoulders, in partnership with The Plastic Solution Philippines, put their #HeadsTogetherForTheBetter as it led its first beach clean-up activity along the shores of Subic, Zambales. 45 volunteers supported this cause, echoing the haircare brand's #HeadsTogether campaign, which aims to inspire a culture of people working together to drive awareness about recycling plastic wastes.
 In line with the #HeadsTogether campaign, Head & Shoulders joined P&G employees, key digital influencers, and people from the media industry as they put their #HeadsTogetherForTheBetter to clean up 245 kg of waste spread across the shores of Subic, Zambales. The event highlights the brand's #HeadsTogether campaign, a reminder to eliminate barriers between people and instead celebrate closeness in building stronger relationships with others. With #HeadsTogetherForTheBetter, the campaign takes a new angle in celebrating collective action to help reduce plastic pollution and raise awareness about recycling these plastics.
The world's #1 shampoo brand showed its strong local support in committing to P&G's global effort to address issues to reduce plastic flow in the oceans. Attendees combed the shoreline of Subic at sunset, working together to collect various kinds of beach waste and strengthening relationships with one another in the process.
The beach clean-up was supplemented with a Sustainability Workshop that educated the volunteers on segregation, recycling and eco-bricks. Volunteers learned more about how they could control their environmental footprint, one less plastic at a time. The activity inspired a commitment to a more sustainable lifestyle as they practiced 0 single-use plastics throughout the day and committed to reducing their personal usage of single-use plastics.
The day's activities were culminated with the advanced screening of "ACTIVATE: Ending Plastic Pollution," a product of the partnership between Procter & Gamble, Global Citizen and National Geographic to create a docuseries raising awareness for various global issues. Through the episode, attendees were exposed to plastic's impact along marginal communities in the Philippines, and how Head & Shoulders is changing the game behind its global bottle innovation on recycling beach plastic.
Head & Shoulders: the world's first in hair care with recyclable shampoo bottles made from beach plastics
In France during the summer of 2017, Head & Shoulders' launched limited-edition bottles made of recycled beach plastic. To do this, the brand partnered with recycling experts, SUEZ and TerraCycle. While TerraCycle led hundreds of volunteers in collecting and sorting plastic from European beaches, SUEZ took charge of cleaning these plastics and turning them into pellets. These pellets were then sent to P&G and turned into a part of its shampoo bottle packaging.
In 2018, P&G haircare brands committed to using 2,600 metric tons of recycled plastic in order to make half a billion shampoo bottles. This is the equivalent in weight to 8 fully loaded 747 jumbo jets.
This is the world's first in hair care, and it is the first step on the road to a more sustainable future for plastic and packaging in the global hair care industry.
National Geographic's ACTIVATE
Procter & Gamble, Global Citizen, and National Geographic launched ACTIVATE – a compelling six-part docuseries to spotlight global issues through powerful imagery and in-depth storytelling that intends to mobilize global citizens to drive meaningful and lasting change.
The fifth episode, entitled "ACTIVATE: Ending Plastic Pollution" zooms into the truth about the increasing problem in ocean plastic pollution. Pharrell Williams joins Global Citizen's push to get governments, companies, and individuals to solve the ocean plastic pollution crisis. Meanwhile, Darren Criss travels to the Philippines to witness how plastic waste impacts people living in extreme poverty and calls on global citizens to urge their mayors to commit their cities to zero-waste futures. Experts describe the disproportionate impact of plastic pollution on people in developing countries and the ways people and brands are solving the problem around the world.
P&G's Ambition 2030
Ambition 2030 aims to enable and inspire positive impact on the environment and society while creating value for the company and consumers. Ambition 2030 goals span P&G's brands, supply chain, society and its employees. Included in Ambition 2030 is a commitment that 100% of its leadership brands will enable and inspire responsible consumption; for the packaging to be 100% recyclable or reusable; and for the society to benefit so that no P&G packaging will find its way to the ocean.
As a brand that continuously improves in consumer goods performance while decreasing negative environmental impact, may this be a call to take urgent actions and participate in recycling, effective waste segregation, and keep our #HeadsTogether for a better environment for the future generations to live in.
Know more about the true condition of our environment, particularly our country by streaming ACTIVATE: Ending Plastic Pollution now: https://nationalgeographic.com/activate/ending-plastic-pollution/